A simple raised dough for pizza crust takes only a few simple ingredients, and you can set it aside to rise for an hour while you do other things. Or, make it further ahead and refrigerate or freeze it.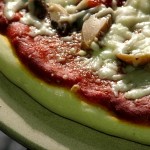 Pizza Crust Recipe
• 1 1/2 to 2 cups flour
• 1/2 t. salt
• 1 t. dry yeast
• 2/3 cup warm water
• 1 T. olive oil
Mix flour, salt and dry yeast (bread machine type) in a bowl. Add water and oil. Mix well, then turn out onto a lightly floured board to knead. Work dough for about 10 minutes, adding flour as necessary, a little at a time, to make a satiny ball that sticks to itself, but not to the board or your hands.
Lightly oil the outside of the ball, and put it back into the bowl. Cover with a tea towel and allow dough to rise in a warm place for about an hour.
Stretch the dough out onto your pizza stone. Spread with sauce, your other toppings, and then mozzarella cheese. Bake at 500 degrees for about 13 minutes, until nicely browned and bubbly.
Remove from oven, slice and enjoy!