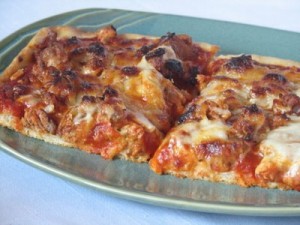 Homemade sausage pizza is so good, it could take me years to get tired of it.
A hot, homemade pizza just hits the spot, especially on Saturday or Sunday night, for a causal meal, easy to eat while relaxing or watching some television.
It's easy to make homemade dough for the pizza crust ahead of time, even the day before, and allow it to rise in the refrigerator.
Let your dough warm to room temperature before stretching it out on your [popup_product]pizza stone[/popup_product] or baking sheet.
Frying the fresh sausage (destined for pizza) is definitely the way to go, if you have the time. Browning develops the flavor and you have more control if you work in a skillet.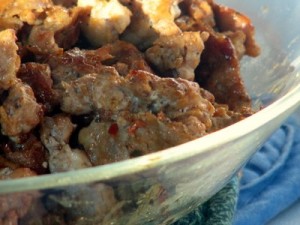 Work in batches so that you brown the sausage rather than steam it
Allow to drain on a paper towel to remove excess grease
Cool the sausage so you don't burn yourself when adding it to your pizza
Pizza is so versatile that you can add more or less of your favorite ingredients, or try some new ones. Black olives are on my list for this.
And a brain wave – next time I order my favorite pizza sausage from Hollywood Markets, have them leave it in bulk instead of stuffing it in casings. I'm just going to take it out of the casing anyway.
I'd prefer not to freeze it, but buying in bulk (casings or no) I can't use the quantity before it would spoil, unless I'm making pizza for a serious crowd.
Should I fry it before or after freezing? This is a question for my friend Chef Lynn, to be determined. I want to preserve the wonderful flavor of the seasonings, and freezing can alter them.
Meanwhile, time to enjoy another fresh hot pizza Saturday night!
About the plate: Pfaltzgraff buffet plate in the Seychelles pattern. Generous size for two big pizza slices.






by