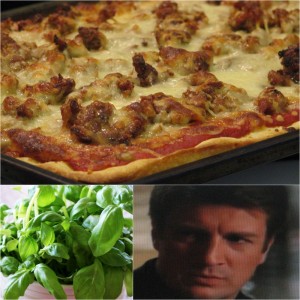 Homemade sausage pizza is a favorite at my house. I've written about it several times, and how much I love our local pizza sausage.
Add fresh basil? Sounds good. Let me get some green on my pizza.
Here's how:
Choose fresh basil leaves
Rinse the leaves and pat dry
Stack several leaves together
Roll the stack
Use a sharp knife to thinly slice the leaves (cut across the width)
This will give you long thin strips of fragrant and tasty basil, what chefs call a chiffonade. Then arrange on your pizza, after the Parmesan and sausage, before the mozzarella.
Some people like to put on the whole leaves, but I like to have the dusky flavor spread out, so that every slice has some.
I used 8 medium sized leaves for my 14-inch pizza, and this was the ordinary basil variety that is common in farm markets and specialty groceries. You could experiment with other varieties, as you wish. I used smell as my guide, and I wanted to be sure and get an herb that would complement (and not overpower) the sauce and sausage.
I've seen recipes for basil on sausage pizza before. But what pushed me to try it?
I got the idea from an episode of [popup_product]Castle[/popup_product], and it just struck me as something that would be delicious. Castle is one of my top three favorite TV shows. It was a program from Season 3, "A Slide of Death." This is the episode where the plot plays out against the intense rivalry between four New York pizza restaurants, with names so similar it adds another layer to the mystery.
In the end, Castle goes "across a bridge" to get a special sausage basil pizza for his daughter. He's such a good dad! (I'll forgive him not making it himself.)
Any night that Castle is on is a good night for homemade sausage pizza, too!






by