I've found it's so easy to have pizza for a Sunday night meal, having made it often for so many years.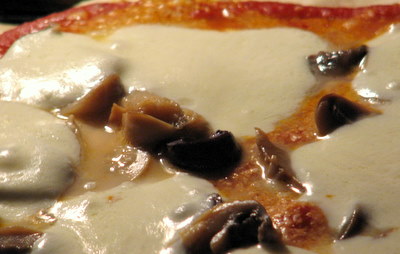 You can make the pizza crust late in the afternoon, and let it rise on the back of the stove, with a clean dish towel or cloth over the bowl to keep down the drafts. Then go off to finish the laundry, do homework, or any of those other tasks that will get your week off to a good start.
Pizza's flexible that way. It fits around the rest of your life.
Or, if you make the dough further in advance, such as in the morning, put it in the refrigerator and let it rise more slowly. If you make an extra batch or two, you can even freeze some ahead. Wrap them well and date them. Just take them out of the freezer to thaw for a few hours before you're ready to use them.
The other pizza components, such as sauce and toppings, keep well and you can have them as pantry staples. This is one reason we like canned mushrooms, though fresh mushrooms are great on pizza, too.
The cheeses, such as mozzarella and parmesan, are great to have on hand as refrigerator staples. The extra richness of flavor that you get from fresh grated parmesan and fresh mozzarella make up for their shorter shelf life.
When you're ready to make the pizza, just preheat the oven, prepare your baking stone if it needs that, stretch out the dough, top it and bake.
Then you're ready to pour your favorite drink and settle in with your favorite Sunday night TV shows. Or, just relax and enjoy a hot fresh pizza as you get ready for another week of activity.






by