Are there any pizza makers on your list (experienced or novice) this holiday season? Why not feed their love of pizza for those special cooks on your list?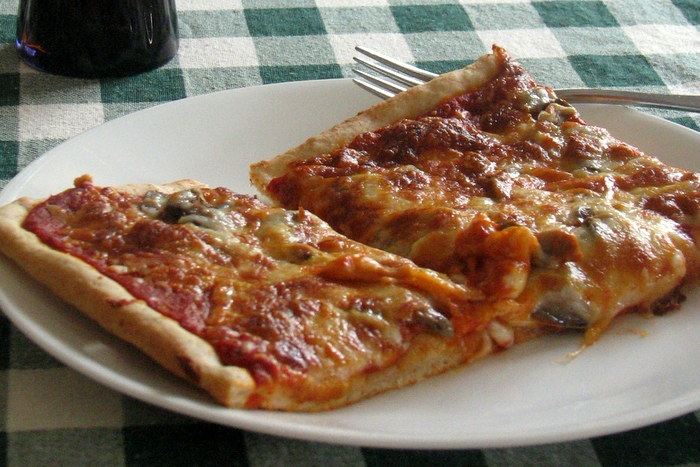 The pizza makers on your list love having complete control of the available combinations, including the crust.
(I'm thinking of home cooks. Those who dial and order take-out are another category of pizza lover.)
When you add to their repertoire of ingredients or tools, happy recipients might even invite you over for a pizza feast!
Thin or thick crust, sauce variations, and the panorama of toppings will be available to explore when they make their own pizza at home!
Top Gifts for Pizza Makers
The possibilities fall into two major groups:
Ingredients – A special sauce that they might have never tried, special pizza sausage that's not easy to find, some Double 0 flour, or special artisan cheese for pizza. Is there another ingredient that they talk about, but have never tried?
Tools – A [popup_product]pizza stone[/popup_product] will help them raise their pizza-making game. (Make sure it will fit into their oven.) Or a pizza peel to move their pie in and out of the oven. Or one of those pizzeria-style cutters will make slicing that pie a lot easier.
Cookbooks – There are as many ways to make a pizza as there are cooks.
A "pizza gift basket" can include several items, depending or the kind of gift you need, and the combination that your pizza maker will enjoy.
Pizza gift recipients will have opportunity to use their gifts right away, if they wish, to put their new pizza making tools to work. The holiday season is a great time to make a simple and quick pizza to feed the family and guests.
New pizza makers will love developing a practical skill, and experienced makers will enjoy expanding their pizza repertoire. Almost everyone loves pizza, and those who don't…should!