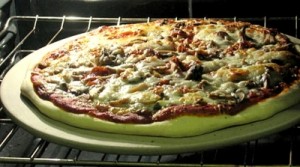 It was in the 40s the last couple of nights. Not too far out of line, with September in Michigan. Time to stoke up the oven and make a pizza.
In order for the crust to rise, it's good to put it in a warm place, and put a clean kitchen towel over top of the bowl. I've left crust to rise for three or four hours and it's just fine. If you want to leave it longer, then put it in the fridge.
I've been leaning toward thinner crusts these days, which means I cut down on the yeast, and leave out the oil.
If I was wanting a flavored crust, I'd put back the yeast and oil, because I think they help the flavor come to the fore. By flavor, I mean Parmesan cheese or a tablespoon of Italian seasoning.
I can only imagine how great some fresh oregano would be. But that test will have to come later.
Also, I wouldn't want a flavor that would fight with the sauce. I have not found one that I like better than Pastorelli, a brand out of Chicago. I've been using it for years, even when I had to bring it back from a city I visited where I could buy it, and the city I lived in, where you could not buy it.
Nowadays I can get it locally, though I keep my eye on my sources.






by