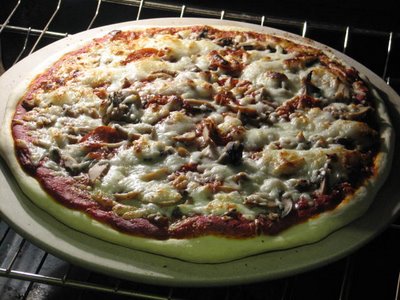 Pizza and basketball. What a great combination!
The coming game between MSU and Butler is all over the news here, as I'm in Michigan. It probably will be exciting. Teams which make the Final Four have to be good.
Having a game-watching party with family and friends this weekend? Make it a pizza night!
Here's how you can have your pizza and see the game, too.
Lay in supplies. Get canned or bottled pizza sauce (your favorite brand or mine, Pastorelli) at the store. Canned mushrooms, sliced pepperoni, grated mozzarella all make pizza preparation easier. Just about anything you want on your pizza can be prepared ahead of time.
Be sure to have some olive oil and Parmesan cheese, too. Oil will help you handle the dough, and the cheese added directly to the sauce adds zing to your pie. These details make all the difference.
Make the dough ahead of time. You can get frozen balls of pizza crust in many grocery stores, but it's also easy to make your own. My pizza crust recipe is very simple. Just make a large batch for the number of pizzas you will make. Then roll into single-pizza size balls, wrap and freeze. If you make the dough on Saturday afternoon, just cover and refrigerate until you are ready to use.
Line up the baking stones or pizza pans. If you've read this blog, you know I favor the Hartstone baking stone. They make a rectangular stone as well as the more traditional round one.
You'll be able to turn out at least two pizzas in half an hour or less, including baking time, if you have everything ready ahead.
At our house, the kitchen and family room follow the great room plan, so I can cook within sight of the TV in the next room. This works out great for events organized around special events like the Final Four.
If your house is not laid out this way, perhaps it's time to get that television for the kitchen that you've always wanted.
In any case, advance planning will help everyone enjoy your get-together, and root for their favorite team – all while munching a hot and fresh homemade pizza!






by