I love bread flour for pizza crust. Guess we're fortunate at our house, because no gluten allergies here. (I am exploring gluten free pizza crusts, for future use. Why should an allergy get in the way when you love pizza?)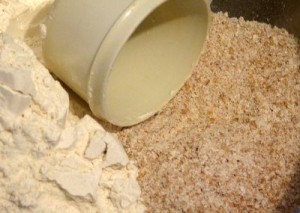 Got some bread flour from Hampshire Farms at the Royal Oak Farmers Market.
This is a whole grain bread flour, milled locally from local wheat. One of the photos shows a comparison, regular bread flour to this flour.
I found that ¼ cup, up to not more than ½ cup of this flour in my usual pizza crust recipe worked well to give the crust some more "tooth" which makes the pizza even more satisfying in this cooler weather. My recipe for pizza crust is on this page.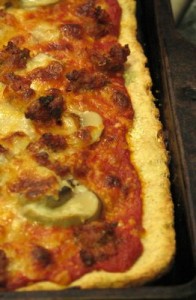 The corner pieces are almost like a slice of pizza with a bread stick on the side. Something crunchy to munch. I could see making this crust into a batch of bread sticks and using the pizza sauce to dip. Could be a good game-day buffet item. Just keep the sauce warm in a small crock pot or chafing dish.
In the quest for a great pizza crust, the importance of having a hot, pre-heated oven comes up over and over. Give your oven 10 or 15 minutes to heat up, so that the pizza goes in to a fully hot oven. As for temperature, it's 500 degrees in my case. That's as hot as my ordinary home oven goes.
As I write, I've got another batch of dough for pizza crust rising in the kitchen. I can already smell the yeasty goodness. Ultimately this will be a sausage pizza, of course. Another tasty pizza coming up soon, crust and all!