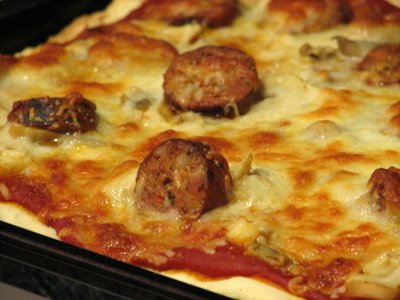 I love the pizza sausage that comes from Hollywood Markets, one of our local grocery store chains. Hollywood is known for its meat, and one of the guys in the meat department mixes this up. The last time I got some, I ordered 10 pounds.
This sausage has a great mix of spices that complement everything on your pizza. It does have some red pepper flake, but not too much. I perceive it as savory, not hot. Kinda like Cinderella eating porridge, this one's just right.
Usually I take the sausage out of the casing, but this week I left it in the large links, and cooked them in a skillet with a lid on top. Then I let them get cold in the fridge, sliced them and put them on the pizza.
I like this method, because I can cook the sausage ahead and keep it in refrigerator for a few days, then use it when I'm creating my next pizza.
That looks so good, I'm going to have to make another one!
PS… I've been making pizza at home now for more than 30 years. I guess I know what I'm talking about, because this week I found another person who liked my articles so much that they wanted to "borrow" one of them. Here's my original article, Homemade Pizza – Great Food as Close as Your Kitchen, on Ezinearticles, an article directory where I am an expert author.