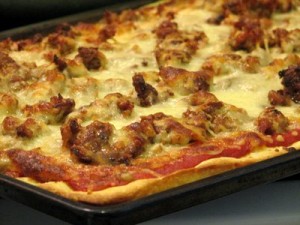 Homemade sausage pizza has become one of our favorites due to discovering the great pizza sausage from our local Hollywood Markets. No surprise to find there's a National Sausage Pizza Day today to celebrate this good food.
No affiliate relationship, just a tasty sausage that goes wonderfully well with our favorite pizza sauce by Pastorelli (which I keep tabs on which markets carry it… I'll drive to a different grocery store for it).
I'm very loyal to particular products when I find one that's outstanding, one that I'd recommend to family, friends and others. The Hollywood sausage and Pastorelli sauce both qualify.
It's easy to enjoy a hot sausage pizza several times a week. I've already written about how to cook your sausage for pizza. Our favorite Hollywood sausage is not too spicy, not too bland, just right.
Tips for easy sausage pizza:
Purchase sausage in bulk, without casings
Precook and crumble the sausage before adding to your pizza
Drain the sausage on paper towels if there is excess grease
Freeze sausage if you won't use it promptly, in pizza-sized batches
Plan to use your frozen sausage within two or three months
Thaw package of frozen sausage in the refrigerator overnight, the day before you'll make your pizza
Add cooked sausage to your pizza after the sauce and Parmesan cheese, before the mozzarella
A good pizza sausage adds lots of flavor to your pizza, complements your sauce and other ingredients. It can make your pizza baked at home extra good.