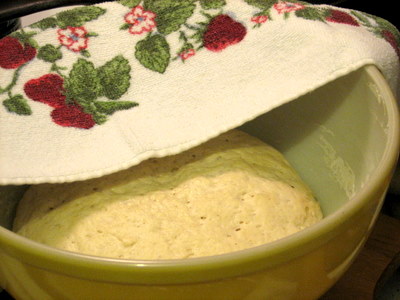 One thing leads to another, and so I met Chef Lynn Miller via the Internet. Her new book, Flavor Secrets, has a full spread on pizza.
I've been making my own crust for more than 20 years, but there is always something new to learn. I've adjusted over the years, and I am currently in favor of a thinner, crispier crust.
I got to ask Chef Lynn about building the flavor of a plain flour crust. I knew that using good quality flour makes a different. And in addition, Chef Lynn says, allow for a long, slow rise.
That makes sense to me. And it's so easy to make up a crust, cover the bowl and set it aside to rise while doing other tasks. A pizza crust can rise all afternoon, to be enjoyed for a casual supper, or put away in the refrigerator for an even slower rise all day or overnight.
If you make a double batch of pizza dough, one can go into the freezer after it has risen for a half hour or so. Then bring it out to rise a bit more and warm to room temperature, several hours before you plan to use it.
After the sauce, my favorite part of the pizza is the crust. Using local ingredients is important to me as well, because of the quality of local agriculture, and commitment to Michigan as a great place to live.
Resources for local pizza ingredients:
Westwind Milling produces flour locally. Their products are available at the Oakland County Farmers Market. Check website for other locations.
Hampshire Farms is certified organic. Flours and grains available at local farmers markets: Royal Oak, Oakland County and Eastern Market in Detroit.
Plum Market – local means Michigan!
Disclosure: This review is based purchased products. No freebies involved.






by