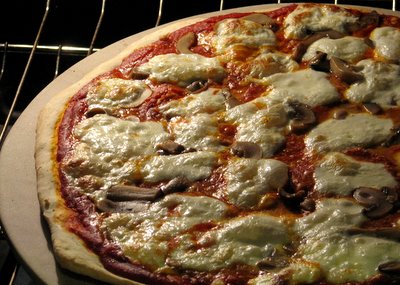 Another Saturday night, time for homemade pizza. Get out the trusty Hartstone pizza stone and fire up the oven. Cook off some sausage from Hollywood, open a can or two of Pastorelli pizza sauce.
I have my favorite brands which are, in my opinion, the best. This comes from many years of experience, balancing several factors that fit the situation at our house.
Home pizza chefs know that the best homemade pizza is pizza made on an oven pizza stone. Sure, you can use a cookie sheet, or a metal pizza pan, and have a pizza come out tasting "pretty good." But when you use a pizza stone, you'll have pizza that comes out great.
The reason that pizza made on a pizza stone is best is because the crust is so important to a good pizza. No matter how awesome your toppings are, if your crust isn't good, your pizza won't be good.
For the best crust, you need to have the oven heat distributed evenly across the bottom of the pizza – this is what creates that pizzeria texture – crispy, but somehow a bit chewy, and completely satisfying, and this is accomplished with a pizza stone which retains and distributes the heat.
The pizza stone allows you to bake your pizza at a very high temperature, which is needed for great crust. The stone heats evenly and holds the heat, even when your oven is cycling through its heat up, cool down, heat up, cool down cycles.
Even though you are only baking the pizza for 13 to 15 minutes, this makes a difference.
If you've been reading my blog, you know I favor the Hartstone pizza stone. This is durable American made stoneware, fired at a very high temperature to make it soap and dishwasher safe. And you can cut the pizza right on the pizza stone. No knife marks.
Planning for company? Or a weekend gathering with family or friends? Pizza is a great food to have, because you can prepare most of it ahead, and bake it fresh right before it's time to eat.
Pizza is a tradition and for many families – a ritual when it's time to have a family Monopoly tournament on a chilly winter night, or after a pool party on a warm summer evening.
Wouldn't you love to share the best homemade pizza with your family and friends? Forget about those frozen pizzas in a box, carryout or delivery, and baking pizza on aluminum pans. Get an oven pizza stone or two, and find out what real homemade pizzeria-style pizza is all about!